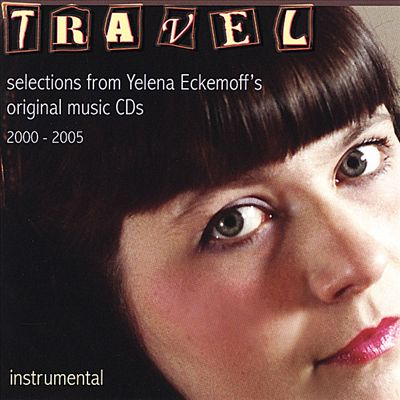 Yelena Eckemoff is a renowned Russian-born pianist, composer, poet, and visual artist. She organically blends classical elements with jazz improvisation in evocative and uniquely distinctive works that strike a delicate balance between through-composed frameworks and open-ended improvisation. Her career can be divided into halves: Before 2009, she issued modern oratorios such as 2000's The Death and Resurrection of Jesus Christ and 2005's Travel, where her focus was shared between jazz, classical, new age, and sacred music. After 2010's Flying Steps, jazz became her primary mode of expression. Eckemoff works with an astonishing variety of session players. Marilyn Mazur and Mats Eilertsen assisted her on 2011's Forget-Me-Not, while Arild Andersen and Peter Erskine appeared on 2013's Glass Song. 2017's In the Shadow of a Cloud featured a quintet with Chris Potter and Gerald Cleaver. 2021's Adventures of the Wildflower was recorded with an all-star Finnish sextet in Helsinki, while 2022's I Am a Stranger in This World, offered an instrumental setting of biblical psalms by a New York-based group.
Eckemoff was born in Moscow and began playing the piano by ear at four. A year later, she was formally studying with her mother, a professional pianist. At seven, she attended Gnessin State Musical College, a school for gifted children, and after high school, she studied classical piano at Moscow State Conservatory. After completing a Master's degree in piano performance and pedagogy, she worked as a piano teacher in a Moscow music school, gave solo concerts, attended courses at the Moscow Jazz Studio, played in an experimental jazz-rock band, and composed instrumental and vocal music.
In 1991, Eckemoff emigrated to the United States with her husband. While assimilating in her adopted country and raising children, she put her musical career on hold, but still worked at music itself whenever possible. She founded her own piano school and served as a church choir director. She experimented with synthesizer and MIDI sequencer in her tiny home studio, then formed a working ensemble from a pool of local musicians. She self-released some 13 albums in various genres including classical, vocal, folk, Christian, and original music for 18 years, most through her own label, L & H. In 2009, she issued the album Advocate of Love, that signaled her shift to jazz in a trio setting, with Pat Lawrence on double bass and Michael Bolejack on percussion. (Cellist Gayle Masarie appeared as a guest). In April of the following year, she issued Cold Sun with American drummer Peter Erskine and Danish bassist Mads Vinding. Based on a winter theme (all her subsequent albums would be conceptual), the set explored improvisation within the setup of the jazz piano trio in four extended pieces that alternated with six slightly shorter, more straightforward jazz tunes. Chosen as one of the finest recordings of the year, reviews of the recording compared it favorably with the gold standard: ECM's many recordings of piano trios. Less than six months later, Eckemoff released Grass Catching the Wind, with drummer Morten Lund replacing Erskine. Some critics lauded the album with the assertion that she was creating a new genre: classical-world-improv. For the composer and pianist, it was merely the latest chapter in her musical evolution. In December, she completed the year's trilogy with Flying Steps, which brought Erskine back and replaced Vinding with the prolific double bassist Darek Oleszkiewicz. While her natural style still leaned over the parapet of classical music, her counterparts pushed the jazz angle in her playing and writing. Eckemoff didn't record in 2011, but she did cut the album that would become Forget-Me-Not in Denmark that August with a new trio comprised of bassist Mats Eilertsen and drummer Marilyn Mazur. The set was issued in February of 2012 to universal acclaim, with some critics claiming she had finally made the full transition to jazz. For her part, Eckemoff paid no attention; she simply wrote the music her muse dictated and played it accordingly.
A month later, she entered the Bridge Recording Studio in Glendale, California with recording and mastering engineer Rich Breen, bassist Arild Andersen, and Erskine. (Despite their long individual relationships with ECM, this date marked the first time they actually played together.) These sessions would result in Glass Song, issued in February of the following year. (She played water glasses on some songs.) 2014's A Touch of Radiance was recorded in New York and distinguished in its quintet setting that brought together the pianist with saxophonist Mark Turner, vibist Joe Locke, bassist George Mraz, and drummer Billy Hart. Though she entered a New York studio that same March, it would be two years before Eckemoff released Lions, with Andersen and Hart. It was a comprehensive look at "animals in the wild with human touches, a classical-jazz soundtrack that goes beyond the superficial, intermission grabs for attention and seeks out the feelings beneath the eerily accurate movements." She finished the year with Everblue, a quartet session filled with Norwegian all-stars: Andersen, saxophonist Tore Brunborg, and drummer Jon Christensen. It was designated jazz album of the week by German state radio, a work that put her mature musical vision on display. Leaving Everything Behind appeared in 2016, a devastating emotional work unified in its themes of departure and loss. In addition to writing the music, Eckemoff wrote a poem for each work and painted the cover art. Accompanied by violinist Mark Feldman, bassist Ben Street, and Hart on drums, it showcased new works as well as several compositions that dated from the '80s when she was just beginning her exploration of jazz. Another shift in direction and instrumentation fueled the sessions for 2017's Blooming Tall Phlox. Recorded in Finland in September of 2013 with some of the country's best jazzmen -- Verneri Pohjola, trumpet and flügelhorn; Panu Savolainen, vibraphone; Antti Lötjönen, double bass, and Olavi Louhivuori, drums & percussion -- it examined the place of memory through sense of smell in three suites. She closed the year in December with In the Shadow of a Cloud, showcasing a quintet whose membership included saxophonist/flutist/clarinetist Chris Potter, electric guitarist Adam Rogers, double bassist Drew Gress, and drummer Gerald Cleaver. With her poems once more accompanying tracks, the set's unified purpose extended to the booklet that contained images of her paintings, session photographs, and photos from her family album; musically it featured some of her most "in the tradition" playing. Eckemoff brought back Erskine and Andersen for 2018's Desert, along with reed and woodwind master Paul McCandless from the band Oregon. Its compositions and improvisations created a dialog between American and European musicians, canceling out the presumed differences between their respective jazz styles; it combined poetry, refined compositional techniques, and interpretive intensity. The set offered a rare example of the balance between intellectual complexity and emotional immediacy. Upon its release, the album was chosen by Germany's state radio station NDR as jazz album of the week. Later that year she released Better Than Gold and Silver with a sextet that included Ralph Alessi, Ben Monder, Christian Howes, Drew Gress, and Joey Baron. In 2019, Eckemoff released three singles, "Cicada," "Fox," and "Bat" as precursors to the following year's thoughtful, double-length concept album Nocturnal Animals, featuring 14 musical impressions of the creatures that rule the night with accompanying poems printed in the booklet. She worked with a quartet that included bassist Andersen, and drummers/percussionists Jon Christensen and Thomas Strønen. It was Christensen's final recording.
2021's double-length Adventures of the Wildflower was recorded in Helsinki with an all-star Finnish sextet that showcased the return of some players from Blooming Tall Phlox. The following year's double length I Am a Stranger in This World was a companion album to 2018's Better Than Gold and Silver. It once again teamed Eckemoff with trumpeter Ralph Alessi and bassist Drew Gress, alongside guitarist Adam Rogers and drummer Nasheet Waits. Violinist Christian Howes, guitarist Ben Monder, and drummer Joey Baron -- in lieu of Rogers and Waits -- appeared on three holdover tracks from the earlier outing.